| | | |
| --- | --- | --- |
| | Historic Lahaina town | |
Lahaina: Maui's miles of sunny south and west-facing shoreline were perfect for developing a new visitor industry. These shores are sheltered from the prevailing northeast Tradewinds; the warm sun is predictable, the waters calm, the rains infrequent, the sunsets sublime; and the outlying Islands - Moloka'i, Lana'i, and Kaho'olawe - give scenic depth to the horizon. While Kapalua Resort is rife with golf courses, tennis clubs, luxury hotels, bed & Breakfasts and Condominiums, Front Street in historic Lahaina Town still retains much of the charm of the old whaling days.
Be sure to visit the Lahaina Restoration Foundation offices for a self-guided walking tour of 31 designated historic sites.

Launiupoko Wayside Park - Located about three miles south of Lahaina Town, right off Honoapiilani Hwy. you'll find this little spot. A nice grassy lawn with picnic facilities, and restrooms. Swimming is best when the tide is high, there is a breakwall that provides a safe swimming spot for younger children.
HANAKA'O'O Beach Park - Located between Wahikuli State Wayside Park and the Hyatt Regency Maui. The Beach fronting the park is the beginning of the long stretch of sand that runs for a mile to PU'U KEKA'A or Black Rock in the center of Ka'anapali. Facilities in the park include picnic pavillions, restrooms, showers, paved parking, and canoe storage sheds for the OUTRIGGER CANOE CLUBS who use the park as a practice site. The Reatta season runs from May to October, you'll want to visit the park any saturday during this period.
Puamana State Wayside Park - Just 2 miles south of Lahaina, right off Honoapiilani Highway you'll find this quaint beachside park. Puamana offers awesome views, shade, and nice surfing during the summer months. Good for picnics, snorkeling, and just plain relaxing.
Baby Beach - Providing nice views of Kaho'olawe, Lanai, Molokai, and the West Maui Mountains, Baby Beach is a fine spot to spend a few hours. Its white sands gently caress the delicate blue of the warm pacific ocean making for great swimming & snorkeling. To find this treasure, follow Front Street north roughly a half mile from Lahaina. On Puunoa Place turn left, and continue down to the beach.
Wahikuli Wayside Park - This narrow area of sandy shoreline sits between Lahaina and Kaanapali. Though often crowded, it is quite beautiful. Tune out the crowds & focus on Lanai's & Molokai's distant coastlines reflecting in the crystal clear waters, and you'll understand why you came! Swimming is excellent, snorkeling is adequate at best. Located off Honoapiilani Hwy. between Lahaina and Kaanapali.
Lahaina Inn - 127 Lahainaluna Road, 1-800-669-3444, "One of the best country Inns" as rated by Glamour Magazine

The Pioneer Inn - 658 Wharf Street (800) 457-5457

Maui Islander Hotel - 660 Wainee Street, Lahaina 667-9766, 1-800-367-5226
Lahaina Shores Beach Resort
- 475 Front Street, Lahaina 661-4835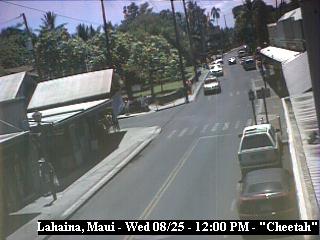 [watch it here]
LIVE WEBCAM - Lahaina Front Street, West Maui

(¢ = inexpensive, ¢-$ = moderately priced, $ = expensive, $$ = take out a loan before dining here)

Pacific' O - Contemporary pacific cuisine "LIVE JAZZ"
505 Front Street. 667.4341 $
Gifted Chef James MC Donald must have been born underwater. This man knows fish. His inventive presentations have garnered rave reviews and numerous awards. Pacific'O Restaurant is right on the beach. Indoor and outdoor seating make dining here a truly authentic Maui experience. Mellow live Jazz music Thursday trough Saturday.
Longhi's - Contemporary Cuisine "Speaking Menu"
888 Front Street Lahaina, Maui; 667.2288 $
Longhi's is one of those special restaurants in the world that almost defies description. Open air with ocean views from either upstairs (dinner only) or downstairs (breakfast, lunch and dinner). The menu is verbal with a wide array of choices from seafood appetizers to pastas and fresh Maine lobster. 14oz. New York Steaks, fresh fish and an abundance of fresh salads and vegetables compliment your meal. Longhi's was created by a man that loves to eat. The ambiance is exceptional and dress is casual.
Bj's - Chicago Pizzeria
730 Front Street 661.0700 ¢$
Located in the former home of the legendary Blue Max, BJ's Chicago Pizzaria is a true local favorite. Great views of the ocean and Lahaina Harbor combined with their award-winning pizza make this a fun spot to be (kids love this place). Their pastas, sandwiches and signature salads are also worthy of consideration. Live recording artists nightly and perhaps the best MAI TAI on Maui add to the good-time atmosphere.
Kimo's - Seafood, Steak, Grog
845 Front Street 661.4811 ¢$
Kimo's is a local landmark. On the ocean in the heart of Old Lahaina Town, this casual restaurant has been delighting visitors for over 20 years. Their Prime Rib is 32oz., seasoned, and slow cooked in a special oven. Kimo's is also a favorite watering hole, with live music on the weekends. If you're shopping in Lahaina, this is a good choice for lunch. Dinner reservations recommended. Also make sure you pick up one or two of Kimo's T-shirts available within, Kristel will be glad to help you.
Chez Paul - French Cuisine
Olowalu Village Rd. 661.3843 $
Chez Paul has been enchanting visitors and food critics alike for over 19 years. The owner, Lucien Charbonnier, is originally from Belgium and his European touch makes this cozy French restaurant both romantic and intimate. Their exceptional classic French cuisine will delight your palate, complimented by an impressive wine list.

Lahaina Cannery Mall - 661-5304
Lahaina Market Place - Front St. 667-2636
Mariner's Alley - 844 Front St. 661-8351
Bikini Bubbles - 707 Front St. Lahaina 661-7923
David's of Hawaii - 815 Front St. Lahaina 661-4009
Maui Merchantile - 709 Front St. 661-8616
Endangered Species - 707 Front St. 661-0208
Gecko Store - 703 Front St. 661-1078
Local Motion - 1295 Front St. 661-7873
Lahaina Hat Company - 703 Front St. 661-8230
Maui Outlet - 699 Front St. 661-5561
Maui Paradise Lahaina - 718 Front St. 667-7547
The Original Red Dirt Shirt - 1-800-717-DIRT
The Pearl Connection - 1013 Limahana Place. 667-7096
Galerie Lassen - 844 Front St. 667-7707
Wyland Galleries - 697 Front St. 661-0590
Blue Ginger Designs - 1221 H'piilani Hwy. 667-5433
Lahaina Body & Bath - 710 Front St. 661-1076
Wet Seal - 900 Front St. 667-9117
Wind, Wicks and Water - opening May 98' Front St.
Island Swimware - Wharf Center 661-4573
GROCERY STORES:

Safeway open 24hrs. - 1221 Honoapiilani Hwy., Lahaina
Foodland - Lahaina Square Shopping Ctr.
Nagasako General Store - Lahaina Square Shopping Ctr. (Near McDonalds)

Friday Nights are Art Nights on Front Street!!! HardRock Cafe - 900 Front Street Lahaina, Maui; 667 7400 - Need we say more???

Maui Brews - 900 Front Street Lahaina, Maui; 667-7794 - Island Bistro and Nightclub

Moose McGillycuddy's - 844 Front Street Lahaina, Maui; 667-7758 - Music, Dancing till 2:00am

Cheeseburger in Paradise - 811 Front Street Lahaina, Maui; 661.4855 - Live entertainment nightly

Longhi's - 888 Front Street Lahaina, Maui; 667-2288 - Live Music, dancing.